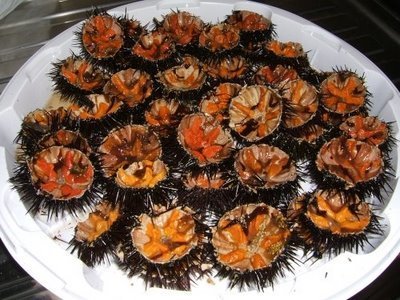 It is Summer.  What is better than Sea, Food and good Wine  to surprise your Lover ? Order for Him/Her a Typical Sicilian Recipe: "Spaghetti con i Ricci di Mare" .
What About "Spaghetti con i Ricci di Mare" ?  It is a special Mediterranean Recipe for Spaghetti with Sea Urchins .
1,2, 3, Let's start.  Read this Article, Learn Italian & Buon Appetito.
First Exercise: 
Here below you  will find a Recipe for Sicilian Spaghetti with Urchins that is written by my Friend Carmela Burgo. Please, Read it slowly and then Translate it . Send to Me the English Translation using  my personal e-mail: StefaniaTardino@gmail.com.
The Best English Translation of this Sicilian Recipe will Winn a price: a Book about Sicilian Enogastronomy. I will send to you a Special Sicilian Cookbook to Your Address.
Or If you Come and Visit Sicily I will Show the Charming Marina Cala del Sole of Licata -in the province of Agrigento-where you Can Taste with Me Our Sicilian Flavours.
Marina Cala del Sole of Licata  is a modern, forward thinking marina with many facilities. With the town right behind it, beaches nearby and historical sites and cultural activities, Marina di Cala del Sole is a wonderful place to stay. 1.500 berths up to 70 mts, Yacht Club,Shopping areas, excellent boat services.
Translate this Sicilian Recipe here below:
Ricetta Spaghetti con Ricci di Mare, Ingredienti e Dosi per 4 persone.
-400 gr. di Spaghetti;
-100 gr.  Ricci di Mare;
-1 Spicchio d'Aglio;
-1 Mazzetto di Prezzemolo;
-Olio d'Oliva;
-Sale, Pepe.
Procedimento:
Tagliate i Ricci a metà, puliteli bene, prendete le Uova e mettetele in una Terrina. In una Padella mettete l'Olio e l'Aglio schiacciato e fatelo dorare.
Lessate gli Spaghetti, scolateli al dente conditeli con l'Olio dopo che avete tolto l'aglio, aggiungete le Uova dei Ricci, mescolate, unite il Prezzemolo tritato, il pepe e Servite Caldissimo.
Vino Bianco Consigliato:
Second Exercise:
Here below you wil find a Video about the Inspector Montalbano, the Fictional Character created by Sicilian Writer Andrea Camilleri from Porto Empedocle, a tiny city in the province of Agrigento, where I was born.
Watch this funny  Video about Montalbano :
Answer these Questions about the Video of Montalbano:
1) What is the name of the owner of the retaurant?
2) What is Montalbano really trying to tell to the Chef about the "Sea Urchins"?
Thanks for You Kind Attention.
Any Suggestions, Comments or Criticism welcome.