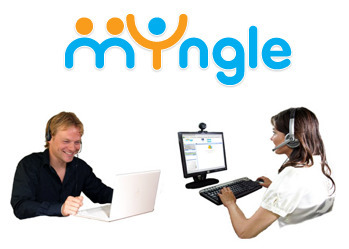 I have had the possibility to work on Myngle platform as Italian teacher. It was really a fantastic experince: to teach Italian at 11:00 o'clock in the morning while your student in Germany was having lunch break. This is the power of working on the net: there are no boundaries: it doesn't matter where you are or what you are doing, you can learn always at anytime and wherever you want.
Myngle is a fully integrated and global language learning school, amongst the first players to deliver professional one-on-one language tutoring over the net, and now the global leader in its segment. Myngle is transforming traditional language education by offering hundreds of professional online teachers and courses in a wide variety of languages.   Its  fully integrated virtual classroom provides students with an interactive, efficient and convenient way of learning or improving a language.
What does Myngle offer?   Myngle combines the best of the traditional education with the best of the internet world. High quality of teaching goes together with high convenience and personalization. Because of this, Myngle provides a language learning solution that is:
✔ Convenient: Learn from wherever you are – from your home, office, hotel or airport lounge.
✔ Flexible: Choose your own schedule and manage changes as needed.
✔ Efficient: No traveling time to and from class! You choose the length of your lessons.
✔ Personalized: Our teachers can focus on exactly the things you want to learn.
✔ Valuable: Excellent price for a high quality service.
For having much more info visit Myngle website:  http://www.myngle.com.